Outdoor Learning and Forest Schools
A Forest School is a type of outdoor education in which children (or adults) learn in the outdoor environment, sometimes in woodland areas or forests, learning personal, social and technical skills. The children learn to appreciate and understand the environment through their experiences with nature. We are lucky to have trees and hedgerows on our school grounds and woodlands in our local community for us to enjoy.
Class 1 exploring frost and ice in our school grounds...
Our last Trip to Givendale Woods
KS1 have had a very exciting couple of days on our Forest School trips to Givendale.
On Tuesday our class went to Givendale for a forest school day and we did den building! First we collected logs for the fire. After that I made a snake out of clay. I liked Gruffalo hunting! The best bit was running around. I enjoyed the whole day! By Daniel
First we sat around the fire circle. Next we had a walk in the countryside exploring the woods. I was surprised when we saw how many snails there was we made little habitats for them. We had a wonderful lunch outside. It was like having a picnic. Later we found little figures from the Gruffalo hidden in the woods. By Michaela
We set off to Givendale Forest. When we got there we collected twigs . Holly was the first one to find a rabbit skeleton! By Tilly
We made dens, then we went to find Easter eggs and the Gruffalo characters. We toasted some marshmallows, after that we had clay to make a Gruffalo. By Charlie
Here are some photos of what we got up to...
READ ALL ABOUT IT!
The Key Stage 1 children took part in a Sponsored Welly Walk to raise funds for our Forest School initiative. Check out the write up in the York Press!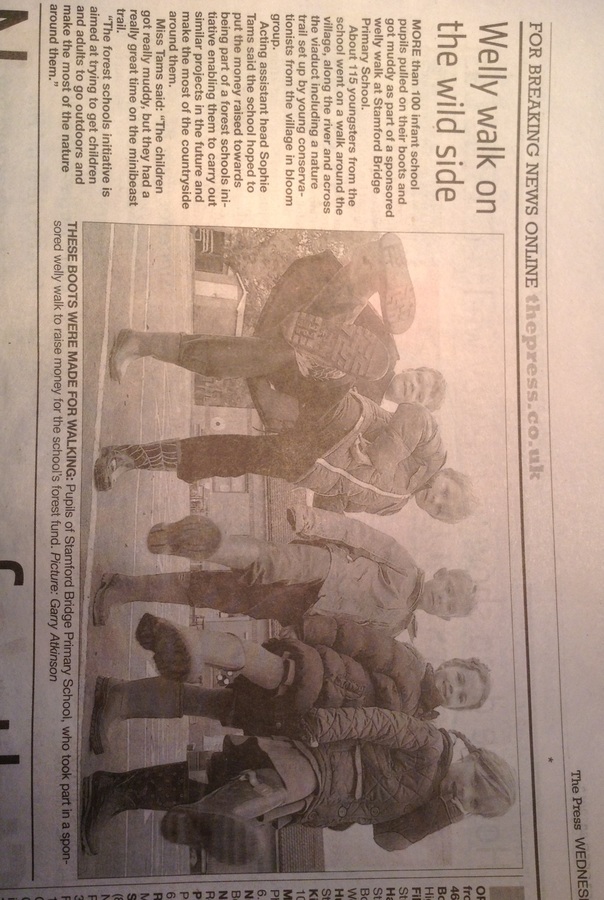 Forest Schools with Reception Rainbows and Sunshines
The Reception children went on an Autumn walk on Friday as part of Forest Schools. They used identification sheets to work out what type of leaf or twig they had found. The children collected different twigs and leaves to make an Autumn crown.
Here are some photos of what they got up to: