Sports Premium, PE, and Physical Activity
Activity Heat Map - How we are active - Daily Mile - Sports Surveys - PE - News - and more..
Being active is extremely important for both leading a healthy life and being able to stay focussed in school. Studies have also shown direct links between activity levels and attainment.
In the last year, we have invested in improving the activity levels of the pupils at Stamford Bridge in order to help them understand the important of being active and healthy and to give them the opportunity to reach their potential.
Whole School Activity Heat Map 2018
As a school, this helps us to see where we are least active and how we can improve our activity levels over the week.
After looking at the 2017 heat map, and the introduction of new government guidelines that schools should provide children with 30 minutes of their 60 minute recommended daily exericise, we put strategies in place to allow children opportunities to move in lessons and introduced The Daily Mile to have more structured activity.
As you can see, we have made good progress towards becoming a more active school already!
Whole School Activity Heat Map 2017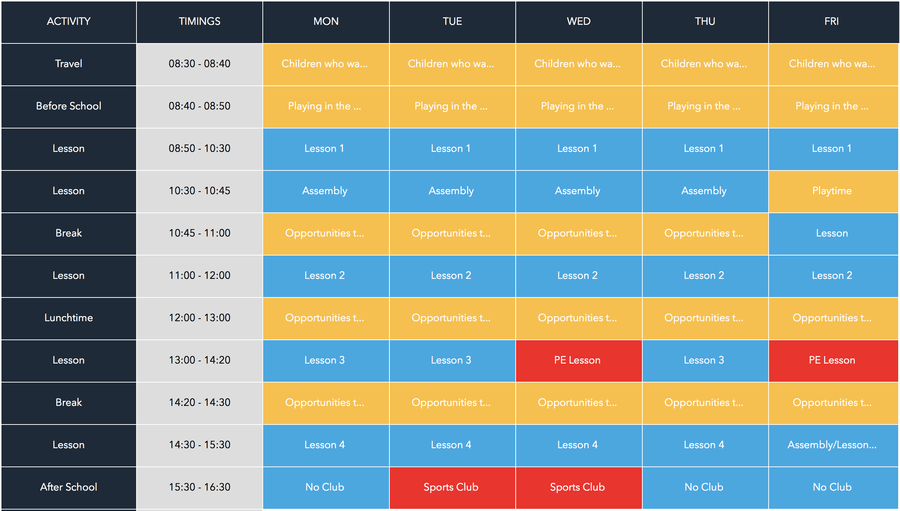 The Daily Mile - improving children's activity levels in school.
Bobsleigh ride!
This is just one of the activities we do in the classroom to stay active and to avoid time spent sitting for too long.
This is a great one for core strength.
Sports News!
Read below to find out about all the amazing things we do in PE and physical activity each term, and the achievements of the sports teams.
KS2 School Sport Survey
92 KS2 children took part in our school sports survey at the start of 2017.
Here are some of the results:
Due to the wide range of activities we do in PE, 98% of pupils enjoy PE Lessons. This is something we are really proud of!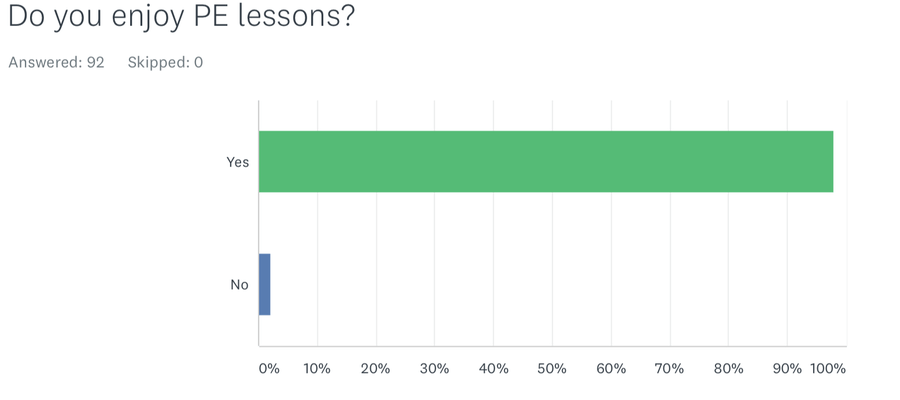 Our staff give up their time to run clubs for the children throughout the year so getting as many pupils as possible to attend is something we aim for each term. See our termly clubs list to find out if there are any clubs you might like to attend. 57% of pupils attended a club last year.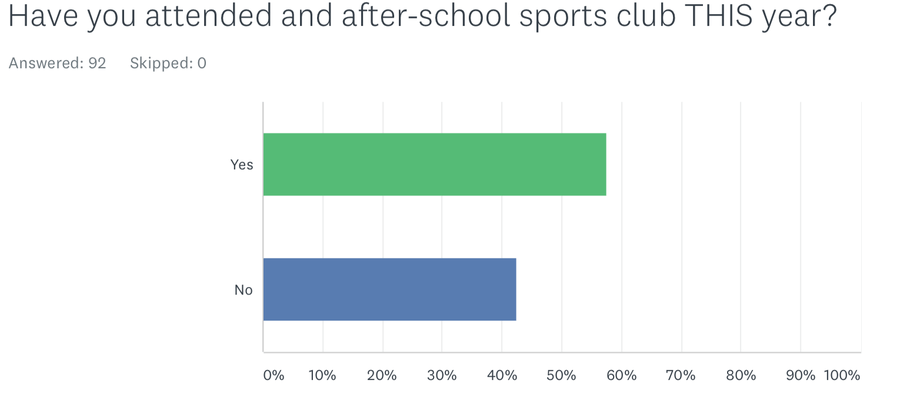 Sport England Active Lives Survey
In December 2017, we were randomly selected to take part in the Active Lives Survey. This is a way for Sport England to monitor the activity levels of children and to inform future initiatives.
Children in Y1, Y3 and Y5 took part in the survey and it showed some interesting results which gave us a snapshot of the activity levels of children in our school.
The survey also raised money for Class 1 thanks to 10 parents of Y1 pupils who took part.
We have been randomly selected again in 2018 so we look forward to seeing some improved results after our progress towards being more active in the last year.
2019 Spending
See below for our current 2019 spending and planned spending. This document will be updated periodically throughout the year.
2018/19 Sports Premium
Read below to find out how we have invested our sports premium this year in order to achieve all of the things mentioned on this page!